Search / Copyright protection
It doesn't have to be THAT revolutionary - as long as you've created something original, you have the right to protect your work against someone else from altering, claiming, or selling it without you...
Published: 18 Nov 2020 at 12:56hrs | 290 | by Staff Writer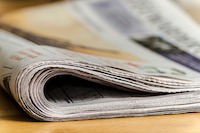 Information professionals are now embracing digitization techniques in the management of information. Just recently the Director of the National Archives of Zimbabwe appeared on ZTV announcing that th...
Published: 06 Jan 2016 at 18:42hrs | 3153 | by Etiwel Mutero
Load More Stories