Search / Optical character recognition
Optical Character Recognition or Optical Character Reader is the electronic and mechanical conversion of the image typed into machine-encoded text. OCR is a field of research in pattern recogn...
Published: 27 Feb 2021 at 09:03hrs | 373 | by Staff Writer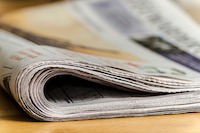 The MDC-T has requested European Union (EU) members to ensure that the bloc maintains economic sanctions on Zimbabwe, basing its argument on claims of fraudulent elections and a co...
Published: 09 Feb 2014 at 08:36hrs | 212 | by Staff reporter
Load More Stories