Search / Commercial tobacco farmers
COMMERCIAL Tobacco farmers in Centenary, Mashonaland Central province have responded well to the deadly Covid-19 disease awareness by minimizing workers and giving those at work protective clothing....
Published: 05 Apr 2020 at 19:44hrs | 826 | by Simbarashe Mwandipendaa
FINANCE minister Patrick Chinamasa has said he was surprised that during last weekend's panic-buying, many people were seen even hoarding mealie meal.Chinamasa told guests at the MEJRKH 2017 M...
Published: 30 Sep 2017 at 06:51hrs | 487 | by Staff reporter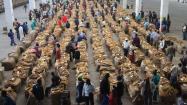 Granaries were a common feature of every household in Zimunya area, south of the city of Mutare, in Manicaland province but these once vital structures have long vanished making way for crudely bu...
Published: 25 Jun 2014 at 08:10hrs | 4502 | by Andrew Mambondiyani
Load More Stories