Opinion / Columnist
The untold story of tobacco farming
25 Jun 2014 at 08:10hrs |
Views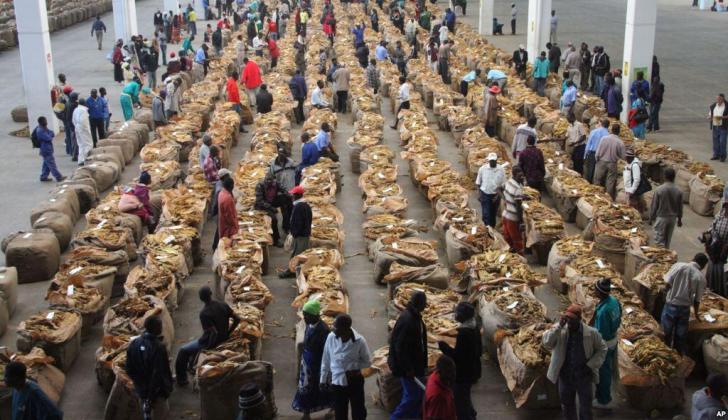 Granaries were a common feature of every household in Zimunya area, south of the city of Mutare, in Manicaland province but these once vital structures have long vanished making way for crudely built tobacco barns as farmers abandon maize for the lucrative tobacco crop.
Tobacco farming is arguably one of the success stories of agriculture in the post fast track land reform programme period in Zimbabwe. And the 2013/14 farming season saw a staggering 103 000 farmers registering with the Tobacco Industry and Marketing Board (TIMB), with up to 90 000 being small-scale farmers.
By early June this year tobacco deliveries had reached a staggering 185 million kilogrammes surpassing the season target of 180 kilogrammes and approaching the 236 million kilogramme peak output reached in 2000. Sales worth more than $587 million had already been generated. Export destinations for tobacco from Zimbabwe include Belgium, United Arab Emirates, China, Sudan, Hong Kong, Indonesia, Philippines, United Kingdom, Spain, New Zealand, Montenegro and Russia.
The growth of smallholder tobacco production has been an indubitable success story of agriculture in recent years but behind the facade of the success story, lies the untold story of tobacco farming- the cost on the environment, health and food security in the country general.
Health and agricultural experts have raised alarm over the dangers of tobacco farming to the farmers, some of whom are using outlawed tobacco chemicals in the production of the crop.
A tobacco expert, Cephas Mukandi said there was a growing fear in the tobacco sector, of the long term effects of exposure to toxic chemicals and green tobacco leaves by farmers and their workers.
"Chemicals used in tobacco are highly toxic, mostly in the purple label, and inexperienced new tobacco farmers are using them without proper protection. The farmers might not experience health problems now but some of the health problems will manifest in the long run, even 10 years from now," Mukandi said.
"Some of the farmers borrow chemicals from fellow farmers and they are given the chemicals in unlabeled containers. That alone poses serious health dangers to the farmers because, at times, they don't even know the names of the chemicals and what to do in the event of accidental poisoning."
Mukandi called on tobacco firms, merchants and government to invest heavily on training programmes and make efforts to empower the farmers on the dangers associated with tobacco farming.
"We might think we're getting a lot of money from tobacco farming but the long term health effects far outweigh what we are getting as a country. These tobacco merchants are paying a lot money for tobacco because they know they are paying for the 'lives' of the farmers. Lives are at stake here," he warned.
Various international studies have revealed that no matter where tobacco farmers work, they experience illnesses through exposure to pesticides, which cause neurological damage and nicotine, which results in green tobacco sickness.
But most farmers are oblivious of the dangers of tobacco farming and for farmers like Tendai Katsaruware, it was business as usual as he was preparing for the new farming season. He said he was not aware of health issues associated with tobacco growing, save for those associated with tobacco smoking.
"I have been growing tobacco for more than three years and I have registered significant successes. I have managed to buy livestock and farm implements. As for the health issues, I am yet to experience them. But even if I knew about these issues that alone could not stop me from growing tobacco, the crop is high paying. Remember people still smoke tobacco even if they know about the dangers of smoking. Tobacco is tempting on and off the field," Katsaruware said with a chuckle.
"Now that you raised the issue, I will take precautions," he added.
Green tobacco sickness occasionally affects those who have direct skin contact with wet tobacco plants. The sickness is caused by acute nicotine poisoning resulting from dermal absorption of dissolved nicotine from the surface of the wet tobacco. But there is little research in this regard from tobacco and health experts in Zimbabwe.
According to a recent USA Public Health Report, tobacco farming presents several hazards to those who cultivate and harvest the plant. Although some of these hazards, such as pesticide exposure and musculoskeletal trauma, are faced by workers in other types of agricultural production, tobacco production presents some unique hazards, most notably acute nicotine poisoning, a condition also known as green tobacco sickness.
It occurs when workers absorb nicotine through the skin as they come into contact with leaves of the mature tobacco plant. The sickness is characterized largely by nausea, vomiting, headache, muscle weakness and dizziness.
Besides health issues, tobacco farming has also come under international scrutiny for deforestation as smallholder farmers are using wood to cure tobacco. While the previous well-resourced, mainly white commercial tobacco farmers depended on electricity and coal to cure tobacco, the new farmers have turned to indigenous trees to cure the crop. It is estimated that, on average, it takes about 20 cubic metres, cleared from a hectare of wood to produce a tonne of flue-cured tobacco. The vast forests which characterised most newly resettled areas are long gone, making way for a mosaic bare ground in tobacco growing areas across the whole country.
And President Robert Mugabe, in an Independence Day celebration message in April this year, exhorted farmers to find alternative sources of energy to cure tobacco or the government might be forced to ban tobacco farming.
With the growing concerns over deforestation resulting from tobacco farming, the Tobacco Industry and Marketing Board recently said it would start disbursing a US$200 000 revolving fund that would empower farmers to construct new rocket barns for curing tobacco. The new barns, copied from Malawi, will use half the firewood farmers are using at the moment to cure tobacco. TIMB board chairperson Monica Chinamasa told the media that the rocket barns would go a long way in reducing deforestation.
And tobacco firms have also revealed that they would spend nearly $33.5 million over seven years in programmes meant to curb deforestation from tobacco-related activities.
According to a local publication, The Source, the money will be raised through a 0,5 percent levy on net annual tobacco earning spearheaded by the Sustainable Afforestation Association (SAA), which was set up by the tobacco industry to lead its afforestation projects.
Between this year and 2021, the association will plant 5,000 hectares of trees every year.
Source - Andrew Mambondiyani
All articles and letters published on Bulawayo24 have been independently written by members of Bulawayo24's community. The views of users published on Bulawayo24 are therefore their own and do not necessarily represent the views of Bulawayo24. Bulawayo24 editors also reserve the right to edit or delete any and all comments received.