Opinion / Columnist
Fireworks as ZANU PF Politburo meets tomorrow
03 Mar 2020 at 15:27hrs |
Views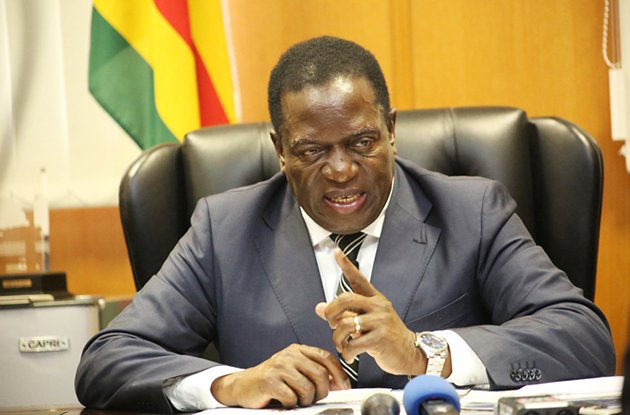 The Zanu PF Politburo heads into the first ordinary session of March 2020 faced with critical issues that are likely to determine the short term course of events. The Politburo is faced with critical issues that are likely to affect the very existence of the ruling party. Godfrey Tsenengamu has openly defied the party, Terrence Mukupe has openly dragged the party into a discussion over the party's popularity and strength, while Wadyajena has openly said Emmerson Mnangagwa talks of things that are not true at rallies. The politburo needs to look into these issues of discipline, and come up with concrete resolutions and action plans as the discipline question is going to affect how the country is governed.
Discipline
The issue of discipline in the ruling party is a pivotal issue which needs to be handled now or else the party will lose its statue and power. Discipline is the vice that has kept the ruling party in power, discipline is what won the liberation struggle, and now the issue of discipline in the ruling party has come under the spotlight.
Godfrey Tsenengamu and Lewis Matutu opened a frontal assault on the core of the party's discipline. They have challenged the way ZANU PF does things and Godfrey Tsenengamu has openly defied the ZANU PF Politburo, something that was unheard of in the Robert Mugabe era.
The issue is no longer about corruption or cartels, no, it has gone further than that and has become an issue of discipline.
While Emmerson Mnangagwa is a known hardliner and member of the old guard he seems to have relaxed the rules a bit. The reform agenda has ushered in an unprecedented wave of indiscipline which Emmerson Mnangagwa now has to contend with.
The level of indiscipline is rife and serious such that the Presidium needs to ascertain its authority and control over the party and affairs of the party.
For the first time we have a young Godfrey Tsenengamu openly telling the Politburo and the President that he will not obey a Politburo directive. Tsenengamu has openly said "handidi/angifuni" to a Politburo directive which ordered him to attend the Chitepo school of ideology.
Parliament indiscipline
The indiscipline pandemic has spread like a veld fire and is now openly seen in Parliament. Justice Mayor Wadyajena has dug deep into classified transactions and opened a can of worms which has exposed the hand of President Emmerson Mnangagwa. President Mnangagwa openly admitted that he approached Grain Millers and sought funds for GMB silo repairs. The President even mentioned the amount and stated that GMAZ gave them the required amount. Enter Wadyajena, who is exercising his oversight role and exposes ED Mnangagwa, GMB says they did not apply for a loan, they never sought the loan and they say they did not get one, they insist GMAZ paid for maize in advance. Who is misleading who? Did Emmerson Mnangagwa mislead the nation into believing that GMAZ played a pivotal role in ensuring our food security? If the President mislead the nation then he has to apologise to the people. The entire inquest has brought the Presidium, Reserve Bank and the party under spotlight. Is this reform or is this indiscipline?
Food security is a very serious and highly sensitive issue in Africa. Kenneth Kaunda was ousted because of the price of mealie meal. The issue of Grain and national transactions around grain is of a sensitive nature, and there are ways to ensure oversight without exposing the food security hand, strategies and tactics of the nation. Especially for a nation under sanctions such as Zimbabwe.
Ian Smith had sanctions and sanction busting measures in the food security sector which involved very grey deals and transactions to keep food rolling into the country.
Beyond the grain inquest, Wadyajena asked for a list of donations made by GMAZ. It is an open secret that GMAZ has given the bulk of their donations to ZANU PF and the National Army. These are not details that the ruling party would want in the public domain, particularly in a house of Assembly that has MDC legislators who are looking for any piece of evidence they can use against ZANU PF ad they seek to wrestle power from the ruling party. This is either indiscipline or a lack of political and security understanding of the impact these things have on the ruling party. Oversight is important, and necessary but there is a disciplined manner of doing things which will keep secrets safe and secure.
Obert Mpofu is one person who understands the nature of national security issues. Obert Mpofu skilfully thwarted indisciplined attempts by Temba Mliswa. The same indiscipline was exhibited by Wadyajena was also put on display by Temba Mliswa when he tried to ridicule, embarrass and put Obert Mpofu under the Spotlight. Obert Mpofu was defiant and refused to be bullied by Temba Mliswa. Mpofu stood his ground on principle as he knew what was at stake and the sensitive nature of the issues that Mliswa was raising.
The Enforcer
It is an open secret that Robert Mugabe had Emmerson Mnangagwa and Sydney Sekeramayi as chief enforcers of discipline in the party and government. Joram Gumbo was a skilled Chief Whip who understood the security and sensitive nature of some issues and used the party's majority in Parliament to keep classified matters as classified.
Emmerson Mnangagwa and the Politburo need to find enforcers, who will enforce discipline in the ruling party or else the party will wreck itself out of power. Indiscipline is a cancer, indiscipline destroys order and foundation of ZANU PF, and that is what regime change agents are praying for and hoping for.
Emmerson Mnangagwa needs to find his own Emmerson Mnangagwa who will be the strong man of the ruling party, the disciplinarian and enforcer of the party's unwritten rules. The Vashandi rebellion was crushed by enforcers who moved in swiftly to enforce discipline. Today the party faces a new wave of rebellion against leadership and sacrosanct structures of the party. Godfrey Tsenengamu is the face of the rebellion but he is clearly not alone, he has high level Influencers who are coaching him and guiding his every move. These handlers also need to face the wrath of an enforcer.
Emmerson Mnangagwa has appointed his ally Lovemore Matuke as Secretary for security, but party security is lax and at its weakest. Discipline seems to have been buried with Mugabe's rule.
Sydney Sekeramayi is like a castrated bull, he no longer has any power or authority to enforce any discipline, anywhere. Owen Ncube also seems to be overwhelmed by State Security duties. Owen Ncube has the potential of becoming the enforcer as he has managed to marshal his own form of discipline in Kwekwe. Given the right instructions and equipped with the right position in the party, Mudha would be a suitable enforcer and disciplinarian.
General Chiwenga would make a skilled enforcer but the position he now occupies as Vice president demands that he be approachable, soft, compromising and a Simon Muzenda type of character. This role clearly emasculated the disciplinarian in General Chiwenga.
Oppah Muchinguri Kashiri is too soft, she is a mother and a friend to many, and this makes it impossible for her to play the role of disciplinarian. Even though she chairs the disciplinary committee she does not have the necessary steel or iron rod characteristics needed to enforce discipline within party structures.
The scourge of indiscipline will continue for as long as Emmerson Mnangagwa does not read the riot act and enforce discipline himself.
ZANU PF members loved vintage Robert Mugabe, they respected him and equally feared him. A great man once said it is better to be feared than to be loved. It seems the crocodile has lost his teeth, and indiscipline will be the undoing of ZANU PF.
Indiscipline within and outside
The Politburo gives marching orders and people march, that was the case in the ZANU PF of Robert Mugabe, Emmerson Mnangagwa and Sydney Sekeramayi. Without Robert Mugabe and enforcers the Politburo is now spineless, they say march and someone barks back "handidi". Surely the opposition is reading these signs and plotting their next move based on the exhibited weakness.
Flash protests are a sign that people do not fear Emmerson Mnangagwa anymore. MDC supporters were heard singing "Garwe renyu harina mazino, harirume", these are signs that indiscipline is becoming a serious problem.
There have been several media reports that indiscipline has also shown its ugly head in our men and women of uniform. Military personnel, stealing military vehicles, rations missing, officers involved in Mashurugwi /machete gangs, this is unheard of.
The levels of indiscipline in Zimbabwe, in general, are now alarming, violent crime is on the increase, murders are on the rise and we have lost that sense of safety and discipline we had as a nation under Robert Mugabe and Emmerson Mnangagwa.
President Mnangagwa knows what needs to be done. Regime change agents want him to reform ZANU PF out of power and it is working. The President has become soft as wool and he needs a skilled enforcer who will enforce discipline within the ranks.
Discipline is necessary when Trump's inner circle was showing signs of indiscipline the Republicans brought in General John Kelly as Chief of staff to serve as an enforcer and disciplinarian. Every political party has its own problems, and there are ways of dealing with the problems behind closed doors so that when the party walks out to the public it presents a united, disciplined front. The revolutionary party needs to enforce the same discipline which kept the ZANLA and ZPRA barracks in order, unity and functionality. The current ZANU PF camp lacks discipline and this has presented the party as weak and not in control. Maybe Terence Mukupe was right after all, ZANU PF is at its weakest.
Source - Peter Moyo
All articles and letters published on Bulawayo24 have been independently written by members of Bulawayo24's community. The views of users published on Bulawayo24 are therefore their own and do not necessarily represent the views of Bulawayo24. Bulawayo24 editors also reserve the right to edit or delete any and all comments received.